"Bill,  Just a quick note to thank you ".  "The bubble tower was fantastic at the Heart Walk!  I say that from both our HealthONE perspective, and from a mom's perspective.
My 4 year old and 11 month old both loved it!  Thanks so much for all of your assistance!  Have a terrific weekend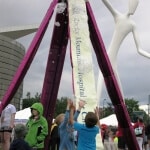 Director of Media Relations and Community Affairs
HealthONE
Comments from our wonderful Patrons ! We have enjoyed working and playing with you!