Much fun at the McMeen Elementary Spring Fling
Mini Bubble Tower and Thirsty, the Giant Parade Puppet.
"Thank you for offering such creative, sound, and unbelievable entertainment!"
"Bubbles and Giants for fun! You can not go boring with this vendor, it is just a esplendid treat!"
Carolina Padilla, McMeen Elementar
y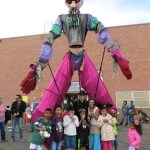 Comments from our wonderful Patrons ! We have enjoyed working and playing with you!