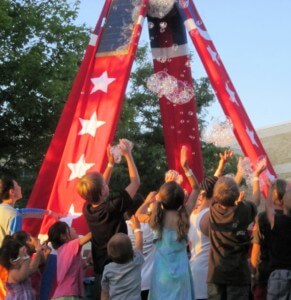 Solar Powered Bubble Tower
check it out, bubbles are fun for everyone no matter what your age! We are so much fun we even have our own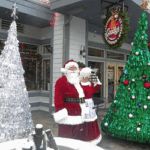 Hire a Dancing Christmas Tree
Let us help you set the mood with Quak the holiday penguin and Stretch the nine foot Candy Cane stilt performer
Green and Silver Dancing Christmas Trees with color changing lights and music"We have used Bill Coleman Entertainment for our Holiday parties. All we
can say is DANCING TREES!!!" Alameda Connects and Alameda Corridor BID Lakewood, CO
Molly Herwehe, Event Coordinator GoBreck.com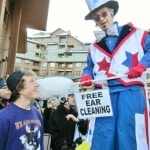 Stretch can help with your entertainment and promotions
We are your comedy greeter, setting the mood and entertaining at the door or at those long lines. Stretch can direct traffic to your hidden treasures, delight the kids and entertain the adults.
Costumes include Americana, COWboy, Stretch the nine foot clown,
Giant Candy Cane, mardi gras, Uncle Sam, Luigi's Fresh Seafood fish monger, and more!