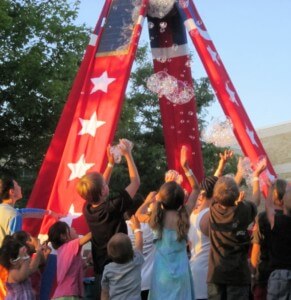 Solar Powered Bubble Tower
check it out, bubbles are fun for everyone no matter what your age! We are so much fun we even have our own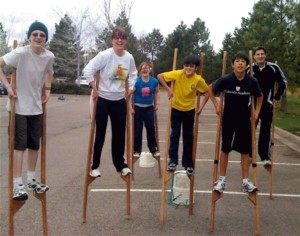 Stilt Parties
The Stilt Party, Clinic or Workshop is a terrific value. Entertaining to both participants and spectators! We bring dozens of old fashioned hand held wood stilts of several sizes, along with some bucket stilts. Nearly everyone from toddlers to grand parents can learn to walk on stilts! In fact, a lot of grandparents join the teens in showing off their stilt walking skills!With a little practice, and even more fun, we can include stilt races with stilt hurdles, or even a stilt tournament for team building. Birthday parties, libraries, county fairs, and festivals have been enjoying our Stilt Parties for over a decade, and you can too! Call or email today for more information and to reserve your opportunity to practice perseverance, balance and coordination!
Hire a Dancing Christmas Tree
Let us help you set the mood with Quak the holiday penguin and Stretch the nine foot Candy Cane stilt performer
Green and Silver Dancing Christmas Trees with color changing lights and music"We have used Bill Coleman Entertainment for our Holiday parties. All we
can say is DANCING TREES!!!" Alameda Connects and Alameda Corridor BID Lakewood, CO
Molly Herwehe, Event Coordinator GoBreck.com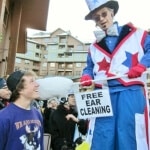 Stretch can help with your entertainment and promotions
We are your comedy greeter, setting the mood and entertaining at the door or at those long lines. Stretch can direct traffic to your hidden treasures, delight the kids and entertain the adults.
Costumes include Americana, COWboy, Stretch the nine foot clown,
Giant Candy Cane, mardi gras, Uncle Sam, Luigi's Fresh Seafood fish monger, and more!