On a very beautiful fall day in downtown Denver we participated in the Peace Paint In.
Organized by Dana Cain as a birthday party for John Lennon, this first year event drew hundreds of people to Civic Center Park. Crowds of celebrants, students from several schools, with dozens of artists painting in the fresh air and Colorado sunshine enjoyed the music and the memories. For more info on the event see PaintIn.org

Partners supporting the Imagine Peace Paint-In included: Denver Art Museum, Jerry's Artarama, 99.5 The Mountain, Colorado Association of Realtors, Cherry Creek North Art District, the City of Aurora Art in Public Places program, RiNo Art District, East End Art District, Boulder County Arts Alliance and Sunflower Market.
Here's a giant peace sign made from 250 pairs of Croc shoes. I took the photo from the top of the Bubble Tower.

This is the same park where the Peoples Fair is held every year. At the Peoples Fair we have the Bubble Tower to the north, in a more sheltered area, and less wind. Here we caught a breeze all day long, alternating from east to west and back! Not much humidity though, but we had plenty of bubbles floating everywhere as the day progressed!
[youtube]http://www.youtube.com/watch?v=kAszvabYCY8[/youtube]
"I must admit, that the 60s and 70s pretty much passed me by. I was either too young, or too distracted at the time to be aware of much of this aspect of our culture. I missed Woodstock, the peace , Kent State, although I do remember the Beatles on the Ed Sullivan show. I was about 11 years old at the time and didn't appreciate them, or my older nieces screaming!"
Later, Dana Cain posted this to the Colorado Festivals and Events Association:

"Hi, CFEA…..

I just ran the Imagine Peace Paint-In on John Lennon's birthday (Thursday) in Civic Center Park. It was a first time event, and a smashing success, I must say! 🙂

But I have to tell you…. one guy made a huge difference, and that was Bill Coleman. He runs the Solar Powered Bubble Tower, and he also has some giant stilt-created characters (Giant Parade Puppets) that walk around.

The Bubble Tower was not just a huge hit. It really enhanced the atmosphere of the whole event.

A big tie-dyed tower spewing bubbles all day long… bubbles that filtered and floated everywhere around the park.

The kids LOVED them… and so did the adults.
And so did the PRESS. I told the media it would be there and they all wanted to film it and photograph it!
We had 4 of the 5 local TV stations onsite – and everyone got a shot of it. (Not to mention the Denver Post).

I hadn't worked with Bill before, but I just wanted to tell everyone…. I would never even THINK of running another outdoor event without the Bubble Tower. It is a MUST, as far as I'm concerned now. No, this isn't a paid commercial – just a heartfelt recommendation that I really think can benefit all CFEA members who run outdoor events. Info is at www.bubbletower.com .
Dana"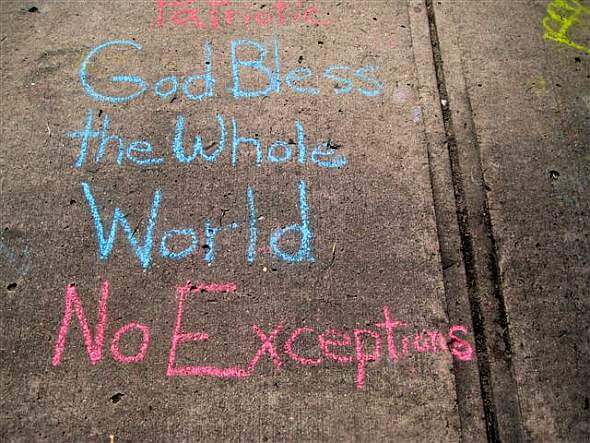 <