The Flour Sack Bubble Tower, this year's new creation.
Made from cotton four sacks from the Philippines and
discarded banquet table cloths from the rental linen
industry.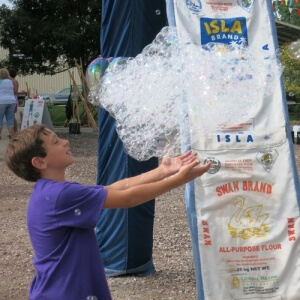 The Philippines may be the last country in the world to use cotton flour sacks.
The US switched to paper in the 1960's.
The Bubble Tower uses sacks from El Superior ,  Liberty Flour Mills,
Red Bowl, General Milling, Wooden Spoon , Pilmico ,Amigo Gold, Sampaguita,
Bakers Choice, Montana Spring,  and other brands and designs including Cinderella, Swan and Pine Tree.
The new design is made from poly cotton flour sacks sourced from Pruiba Provisions, a charity group in the Philippines who collect the used sacks directly from bakeries in the region. They then sew aprons, bags from flour sacks.  The Philippines is a top five market for US wheat, importing over two million metric tons of US wheat last year.
I expect this to be a popular design for county fairs, combining the features of an education exhibit
with great fun!
Cheers!
Bill Coleman
Home of the BubbleYou® Bubble Tower –the world's biggest bubble toy® !
Eco-friendly FUNtertainment!