Our REcycled Bubble Tower made the front page of the Grand Island Independent newspaper:
Our REcycled Bubble Tower is a combination of our COW  and COFFEE Bubble Towers.  Combining a reclaimed, repurposed, out dated billboard vinyl and dozens of colorful burlap and jute coffee bean bags from around the world,  with bright and color filled patches of discarded polyester table cloths from the rental linen industry.  I really like the fade resistant bright colors AND we get to keep some polyesters from languishing in a landfill !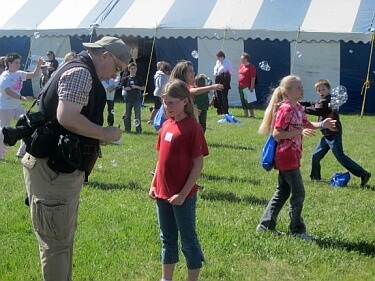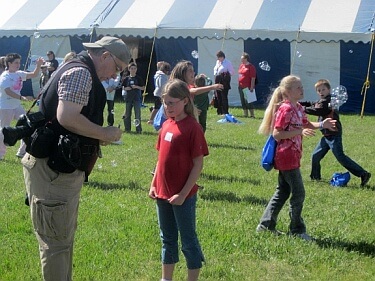 Bubbles!  A photographers best friend!
Photographer Barrett Stinson from the Grand Island Independent newspaper collects names for the newspaper.
The Nebraska Children's Groundwater Festival featured dozens of stations dedicated to water quality, safety and responsibility.  Our Bubble Tower was the center of attraction during the student's visit and presented an opportunity for them to experience the opportunities presented by a solar powered attraction made from reclaimed and repurposed materials.
Over 900 students from some two dozen schools participated in the educational and FUN event.  I am so grateful that we could be a part of the experience.  THANK YOU Nebraska Children's Groundwater Festival !