The Colorado Mission of Mercy (COMOM) is a dental clinic in which portable dental stations are set up in a large public arena, and dental screenings and services are provided at no charge to those who attend. COMOM combines the donated services of hundreds of dentists, dental hygienists, dental assistants and an array of volunteers to provide these free dental clinics.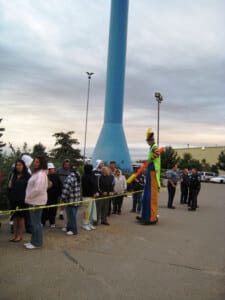 Colorado Smile Makers Program, 9-12-2009
Hundreds of people lined up the night before for free dental care. The Dentists started arriving at the Adams County Fairground at 4:30 am! I arrived later to help cheer folks up with my jumbo 5 foot long "Toof Brush" !
In 2008, in Loveland, CO
"Nearly 900 volunteers provided 1,411 patients with
$1,181,400 in donated dental care
in two days."